Saint Valentine
By Eliza Gower | Posted in Prime Finds | 7 February 2012 3:12PM
Oh what a day I love to hate. I can't work out if it is the fact that is was created by Hallmark purely to sell unnecessary tacky crap, or if it is just that it brings out the nauseating faux romantic in people who should really know better…
Either way, the idea of bear-holding-heart-red-roses-and-babies-breath-creepy-heart-shaped-boxes-of-chocolates-nasty-public-proclaimations-of-love-marriage-proposals etc on this shuddersome day don't leave me feeling at all warm and fuzzy.
That is not to say, however, that neither I, nor my Urban List counterparts are entirely bereft of romanticism. It is just about being tasteful and avoiding the local mall.
Here are three ideas for secretly celebrating Saint Valentine without ruining the whole affair with clichés.
A Luxurious Affair: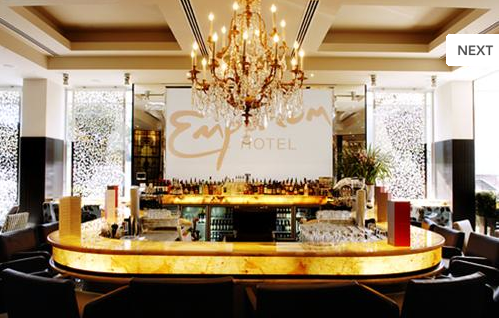 Ok, I'm not going to lie, this competition is pretty exceptional. Emporium is offering a night at their eponymous hotel, a hair and make-up package from Toni and Guy (for the ladies) and breakfast for two at Buzz Café, to one lucky set of lovebirds, just for liking their
Facebook page
. We think it is well worth exchanging one little like, for the possibility of winning all of that love. Soppy or not, one can't say no to free stuff.
If you aren't a lucky winner, I would suggest sharing a bottle of beautiful champagne at
Brunswick Social
, followed by dinner at
Anise
or
Ortiga
, and then partaking in a few late evening cocktails at
Bowery
(and if you glimpse even a flutter of a crepe paper heart at any of these intimate institutions, I will eat my very-in-need-of-a-wash-felt-hat)
Low on time, high on lovin':
I don't care what any girl says about not liking flowers, if a bunch of beauty the size of one's wing span arrives on one's desk, I dare one not to exclaim with excitement, before proudly fetching a vase with said flowers in hand for all to see.
This DOES NOT however, ever under any circumstance excuse a bunch of hideous red roses with babies breath. I can barely even agree to a box of the most expensive long stemmed red roses. Why red roses when you could choose from any number of gorgeous creations? It's 2012, well and truly time to say no to 'holiday' clichés. (Though, it is the thought that counts…)
We have a little tip to share when it comes to flowers. Little known florist,
Hacienda
, create outrageously beautiful arrangements, with a selection of modern, non-fruit-saladish-non-red-rose flowers, of the highest quality. Seriously, these bad boys will knock the socks off even the most heartless/unromantic/cynical girl. An Urban List office favourite.
If you want to shake it up a bit, a box of
Dello Mano
brownies will win over girls and boys alike. (They are the bestest in the whole world and the deliver everywhere in the whole world)
Romance on a budget:
I almost want to put this one up the top as the guaranteed sweet spot of romantic adoration. There is something about putting in a little more creative effort that reaps far more spectacular rewards.
If you are a little low on pennies but big on love, here is your answer: an evening picnic. So simple but so damn successful! If you can't be bothered leaving the house (lets be honest, it will probably be raining), you can even partake in a picnic on the floor of your home. A word to the wise, cushions and candles help.
For outdoor options… Old New Farm Park is a safe bet, as are the Kangaroo Point Cliffs, but I would be inclined to sneak off to your local park for a slightly more intimate rendezvous.
While the following should be tailored to the taste of the recipient, I feel like this is a fail proof selection to get you going.
Cheese:
Move away from the old (albeit delicious) Camembert and take a punt on some gorgeous soft goat's cheese and truffled pecorino from
Rosalie Deli
. (The truffled pecorino is RIDICULOUS, also a little ridiculously expensive. A teeny, tiny piece will do. Or just ask the lovely staff to help you choose another.
Proscuitto/Jamon:
Very fine slices are key here. If you can manage to get your paws on Serrano, Bayonne or Parma, even better. Delicate, porky goodness.
New Farm Deli
has a pretty exceptional selection.
Oysters: Not everyone's cup of tea, but if you have an oyster lover on your hands, these little morsels are supposedly the most effective aphrodisiac around. A bag of fresh prawns and a lovely ripe avocado is a good back up though.
Bread:
Hold off on the healthy seedy option just this once, and go for a good loaf of pane di casa… Or hunt around for the freshest, crispiest baguette you can find. You needn't hunt much farther than
Chouquette
(my French friends shop there).
Fruit: One cliché I will allow… Strawberries, if they are dipped in chocolate, even better. Cherries, mangos or sliced peaches are a good substitute.
A box of macarons:
No need for decadent desserts, but the sweet tooth must be sated, and macarons are just so pretty!
Marché du Macaron
should do the trick.
Champange/Wine: So French Champagne, from Champagne, is optimal here, but let's be honest, if you are investing in real Champagne chances are you can also afford to eat out. An equally delicious, but far less expensive alternative is Bream Creek from Tasmania. A little tricky to find, but it is the best kept secret of all Taswegian wine lovers.
A bottle of Best's Riesling is a seriously delicious non-champagne option as well (it is allegedly the Summer of Riesling after all), or try Bress Pinot Noir, for a lovely, inexpensive, full flavoured but light red. To find some of the more obscure varietals and independent distrubuters, try
The Wine Experience
(it also happens to be just down the street from Rosalie Deli, how convenient.)
Remember details are key. Take real glassware, cutlery and plates, a blanket to sit on and as many candles as you can be bothered to light (put them in glass jars to avoid wind-related trauma).
If all else fails, breakfast in bed, served on a tray with hand picked flowers is pretty much the loveliest thing anyone could ask for.
And not an oversized, heart-bearing stuffed toy in sight!
PS. All of the above can be done for boys and girls alike... And the picnic/ extravagant night out is equally fun with friends. Singletons shan't be forgotten!